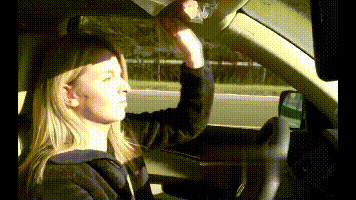 Our Anti-glare Visor made from premium quality ABS & TPR material. This car's anti-glare visor is thick, very stable, safe and durable.
Newest design, it's hard to find the same product
FEATURES:
ANTI-GLARE FOR SAFETY: This car visor with Light-filtering technology can block excess glare and harmful UV rays. The gray one helps you drive safely on a bright sunny day and snowy terrain which reflects backlight. The yellow one blocks the car lights at night, eliminates eye fatigue.
EYE PROTECTION: The Anti-Dazzle Sunshade Mirror will protect your eyes day and night, block the sunshine during the day, resist the distance light in the evening. It is ideal for people who are susceptible to glare. The car visor filters the armful light; reducing light pollution caused by eye diseases and protects the visual health.
EASY TO INSTALL: Say goodbye to cumbersome products that are difficult to install! Just clip it onto your overhead visor and you can easily adjust its position. The car windshield visor can be rotated 180 degrees in the most convenient setting according to your needs.
DELUXE AND SAFE MATERIAL: Heat-resistant materials eliminate heat-induced discoloration and warping over prolonged usage, car visor is also made from PP & TPR material which is shockproof, compact structure and premium quality thick, very strong, safe and durable to last for a long time.
UNIVERSAL IN SIZE: 12.5 inches long and 4.33 inches tall. The car anti-glare visor is universal in size, compatible with all vehicles. The car goggles can also be kept easily in storage when not in use. Once folded back into place, the space it takes up is minimal.
HOW TO INSTALL:
Hold the button to stretch the long buckle.
Fasten the buckle position and fix the tightness.
Gently tear off the film on the goggles.
Choose the visor you want to use.
SPECIFICATIONS:
Weight: 12.8 ounces
Using Range: 105 - 195 mm for CD
Size: 12.5 in x 4.33 in (32 cm x 11 cm) cvm)
We proudly offer worldwide shipping 17track! Please note order processing time is typically 1-3 business days.
Once your order has shipped, the estimated delivery time is between 5-20 business days. Please consider any holidays that might impact delivery times.
Please note: Your order may split into multiple shipments. If this occurs, you will be notified and receive a tracking number for each separate shipment.