Product Details:
Advanced leather repair gel allows you to refurbish leather easily and easily! It can quickly repair burns, holes, tears and cuts on the leather surface, and has a long-lasting, flawless effect.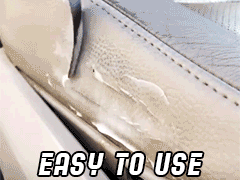 It restored the cracked vinyl sofa and car seat to their original condition. Get professional quality repairs without spending big money in crazy expensive repair shops!
 

Features:
Advanced leather repair gel
Refurbishment can quickly and flawlessly burn, punch, tear and gouge without leaving marks

Extend the life of favorites
Protect your favorite furniture or car seat. Repair any accidental burns, holes, tears, etc., and restore the luster of the leather to maintain the original state

Easy to use
Just use the repair gel, no additional tools or skills are needed
Durable material
Permanently attached to the leather, never tearing
Keep it smooth and shiny
Made of high-quality materials, it provides comprehensive protection for the leather surface and prevents oxidation

Does not contain harmful chemicals,
Will not further damage the surrounding leather
Wide range of applications
In addition to automotive equipment, it can also be applied to any leather surface objects, such as jackets, shoes, bags, furniture, etc.

how to use:
 Apply repair glue on the leather surface and evenly spread it
Use a dryer or wait until the surface is dry
Polish or paint the surface as needed
The package includes:
2 x Advanced leather repair gel [black and white]
We proudly offer worldwide shipping 17track! Please note order processing time is typically 1-3 business days.
Once your order has shipped, the estimated delivery time is between 5-20 business days. Please consider any holidays that might impact delivery times.
Please note: Your order may split into multiple shipments. If this occurs, you will be notified and receive a tracking number for each separate shipment.