Cool luminous tail throat, looks exactly like the tail of a fighter jet
Use lights to match the airflow and smoke of the original factory exhaust at night, which can show a fire-like effect. Quietly drive on the empty street at night to turn on the taillights. The passionate red and glamorous blue add to the car. A living motivation
The exhaust LED light is easy to install and can bring cool effects to your car. It is made of stainless steel and carbon fiber and is heat resistant, so it can be safely installed on the exhaust pipe. When driving, the smoke and light are mixed together to produce a cool fiery or cold effect!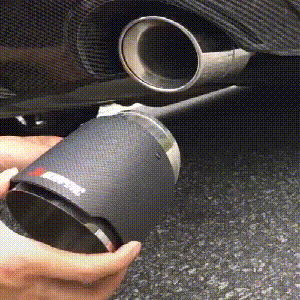 feature:
Easy to install-no need to take your car to an auto repair shop to add this cool LED light. It is easy to install in your own garage.
Cold light effect-This LED exhaust accessory is an easy way to add cold light to the car. When the exhaust pipe smokes, this LED light turns the smoke into fiery red or icy blue, producing an awesome effect.
High temperature resistance-The LED exhaust nozzle is made of heat-resistant material and can be used safely on the exhaust pipe.

how to install?
Connect the LED tail hose with the buckle to the original car exhaust pipe.
Adjust the position, tighten the buckle and check whether it is firm.
Find the light wire, the red wire is connected to the positive pole, and the black wire is connected to the iron.
After the installation is complete, test whether the light works normally.
specification:
Applicable models: General
Special function: LED muffler head
Installation position: rear
Type: Muffler
Material type: aluminum alloy
Carbon type: Flame LED
Size: 22.0 cm * 11.0 cm * 11.0 cm
Package includes: 1x fire-breathing tail throat
We proudly offer worldwide shipping 17track! Please note order processing time is typically 1-3 business days.
Once your order has shipped, the estimated delivery time is between 5-20 business days. Please consider any holidays that might impact delivery times.
Please note: Your order may split into multiple shipments. If this occurs, you will be notified and receive a tracking number for each separate shipment.