Features:
The LED lighting safety light is powered by 3 AAA batteries (note: the battery is not included).
2.9 Different flashing modes, including SOS rescue, rotating flash, flash, single flash, alternate flash, strong light, low light, flashlight and 3 LED flashlights.
3. The LED road signal lamp has anti-shatter, rain-proof, and anti-shatter functions, and is a necessary equipment for car trunk emergency or bicycle emergency.
4. The LED emergency signal light is equipped with hooks and super magnets to ensure that the light stays in place on the iron metal surface such as the car body, which is very convenient.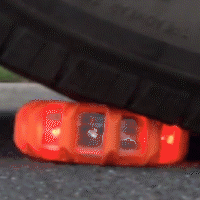 Application scope:
Traffic warning of breakdown car
2. Police road planning signs
3. Surface buoys and maritime rescue signs
4. Major vehicle transportation warning
5. Used for identification for emergency vehicles to find, such as ambulance, helicopter landing zone identification
6. Rescue operation logo
7. Emergency or temporary runway markings
8. Camping site or hiking route identification
9 field lighting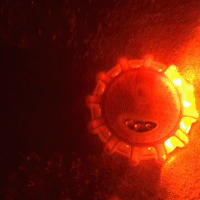 Specifications:
Color: orange
Type: 9 flashing patterns
Waterproof rating: IP67
Diameter: 3.66 inches
Thickness: 1.37 inches
Steps to replace the battery:
1. Remove the two Phillips head screws and take out the screws,
2. Look for two small labels along the rear edge of the transparent plastic cover. Pry up gently and the back cover will fall off,
3. Put new 3 AAA batteries in the battery slot,
4. Find the two small tabs and align the back cover with the warning light, and then tighten the two screws with a screwdriver.
We proudly offer worldwide shipping 17track! Please note order processing time is typically 1-3 business days.
Once your order has shipped, the estimated delivery time is between 5-20 business days. Please consider any holidays that might impact delivery times.
Please note: Your order may split into multiple shipments. If this occurs, you will be notified and receive a tracking number for each separate shipment.